Note Weavers CIC have been awarded £30,000 by Youth Music using public funding from the National Lottery through Arts Council England to support early years music education in the North West of England and beyond.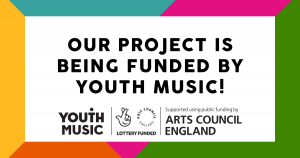 This new programme of work, 'Talking Regions', will support early years educators and music practitioners at several levels.  New local and specialist practitioner networks will be established to share ideas and resources and offer access to free training opportunities. There will be music activity in four nursery settings led by four practitioners who will be mentored by the Note Weavers team and receive a bursary to complete the Level 4 Certificate for Music Educators; Early Childhood (CME:EC).
Talking Regions will also bring together a number of regional early years music organisations including key voices in the sector from across England to initiate a new national dialogue that is mutually supportive and informative for the ongoing development of early years music practice.
June 2022 Update: The Evaluation Report for this National Conversation is available here
Incorporated as a Community Interest Company in 2019, Note Weavers is an organisation committed to;
establishing opportunities for practitioners to connect and develop their knowledge and understanding, improving early years music practice

increasing access to inclusive music opportunities for children, families and communities

developing the early years music workforce and supporting emerging practitioners 

contributing to conversations on a national level with other like minded organisations.
Note Weavers has existing partnerships with Brighter Sound, Early Years Education department at Edge Hill University and More Music who said;
"A key area for development in early years music provision is supporting the workforce in sharing practice, training, examining the latest in reflective evaluation and educating music practitioners. Note Weavers will play an important role in leaving a lasting impact on developing skills for the sector. "   Loz Kaye 2019
Further information about Talking Regions or any of Note Weavers' other programmes of work can be found on the website, along with contact details and information about how you can get involved.
Website; https://www.noteweavers.org/
Facebook: https://www.facebook.com/noteweavers/
Instagram: @noteweavers
Twitter: @NoteWeavers
LinkedIn; https://www.linkedin.com/company/noteweavers 
Notes for editors: About Youth Music
This project is supported by Youth Music, using public funding from the National Lottery through Arts Council England. Youth Music is a national charity investing in music-making projects that support children and young people aged 0-25 to develop personally and socially as well as musically. The charity works particularly with those who don't get to make music because of who they are, where they live, or what they're going through.
Projects funded by Youth Music help to break down barriers at all stages – helping children develop an early love of music, providing diverse role models, introducing young people to a wide variety of potential career paths, and working with the music industry to make its practices more inclusive.