Note Weavers Directors Georgina and Sorrel have been delivering a series of music sessions, working on behalf of Bolton Libraries and Museums Service. The family sessions were for early years children, and children with special educational needs and disabilities and were located at Bolton Museum and Smithills Hall.
All the sessions had a multi-sensory focus and incorporated musical games and activities, as well as giant scrunchies, scarves, lycra and soft toys, sensory balls, stories and musical instruments.  Different rooms in the venues were used depending upon the needs of the children and their families.
Georgina and Sorrel had a fantastic time working with all the children and their families. A big shout out to Jacinta Frank and Charlotte Higham at Bolton Libraries and Museums Service for inviting us to deliver the sessions.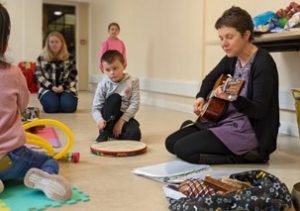 Feedback from families on the sessions was positive:
"The sessions were fantastic. It was great to be a part of something so inclusive where my child could express himself. Georgina tailored the sessions to fit the children who were attending and made sure they were engaged and happy. Since attending these sessions my son has seemed more confident and can often be heard singing the songs from sessions".
"We loved it. My son can be difficult to engage, but he took part throughout".
Charlotte Higham, Library Access Officer at Bolton Central Library said:
"The children who attended the sessions thoroughly enjoyed them and it was lovely to see the children who were reticent at the beginning of the session, fully joining in with the musical activities by the end."